Le Guellec company overview
Specialized in the cold drawing of metallic precision tubes for over 70 years, Le Guellec is a manufacturer and producer of precision tubes and precision profiles.
Le Guellec has continuously evolved in order to offer their customer's innovative & complete solutions such as in bending.
Innovation at the heart of our business!
Aware that Innovation is a key factor for making the difference, Le Guellec are strongly involved in customers' projects. For this purpose, a Research & Development team made of 2 engineers and 3 experienced technicians has been formed.
Le Guellec have the ability to offer technical support & innovative solutions to their customers in order to achieve the success of their projects.
Precision tubes & Precision profiles manufacturer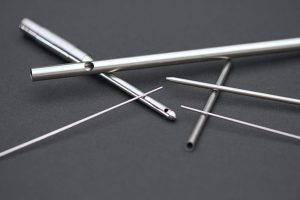 Today, Le Guellec are a leading supplier of precision tubes & profiles in Stainless Steel & Nickel alloys.
Precision bending
In order to extend its production capabilities, Le Guellec also offers bending and machining operations.
If you wish to know more about the services offered by Le Guellec, please consult Products, New developed products and Other competences sections.